I have an amazing collection of recipes on my "Must-Make-List". It's my To-Do-List of recipes or 20 years ago, what would have amounted to a pile of recipe clippings. I've published my list here on my blog to share with you.

On Mondays, I like to select and prepare a recipe from my Must-Make-List page. I write about the outcome and post any changes I might have made to the original recipe. If you're interested in seeing earlier Must-Make-Monday (mmm) postings, go to my Must-Make-List page and click on the Made-This TAB.

I picked up a Doughnut Pan last week, so it's only natural that I chose a doughnut recipe from my Must-Make-List. I made Gluten Free Chai Doughnuts With Vanilla Glaze by Alea at Premeditated Leftovers. Alea's recipe caught my attention because she used chai tea infused milk. I love tea with chai spices, especially at this time of year when the weather is getting colder.
My choice of teas these days are loose leaf ones from DAVIDs TEA. I decided to use my current favorite, Pumpkin Chai tea in this recipe but other than that, I didn't make too many changes to Alea's original recipe. I did switch up the rice flour and used brown instead of white but I think everything else is the same. Alea has a great blog over at Premeditated Leftovers with plenty more recipes like this one. You should hop on over to check out her site.

Recipe: Pumpkin Chai Doughnuts With Vanilla Glaze
View Print Friendly Recipe Here
Summary: This recipe uses chai tea infused milk. I love tea with chai spices, especially at this time of year when the weather is getting colder. These doughnut might look a little plain but the flavour is amazing. I can hardly wait to make them again.
Gluten-Free | Vegetarian
Ingredients
Doughnuts:
3/4 Cup brown rice flour
1/2 Cup tapioca flour
1/4 Cup potato starch
3/4 tsp xanthan gum
1/3 Cup coconut sugar or sugar substitute of choice
2 tsp baking powder
1 tsp vanilla
1/4 tsp salt
1 egg, beaten
1/2 Cup softened butter or coconut oil
3/4 Cup + 1 tablespoon milk or milk substitute of choice
3 tsp Pumpkin Chai by DAVIDsTEA or use 3 tea bags of chai tea you have on hand
Vanilla Glaze:
1 Cup powdered sugar
1 Tbsp + 1 teaspoon milk
2 tsp vanilla
Instructions
Bring milk to a near boil, I heated mine for 1 minute, 45 seconds in the microwave. Place tea bags or tea ball infuser in milk and let steep for 10 minutes. I used one of these T-sac Tea Filters. Squeeze milk out of bags and discard tea bags.
Preheat oven to 350 degrees. Grease doughnut pans.
In a medium bowl, mix flours, potato starch, xanthan gum, sugar, baking powder, baking soda, and salt.
Add egg, milk, butter or oil and vanilla. Beat with an electric mixer on low-speed just until mixed.
Fill the donut pans 2/3 full. Bake at 350 degrees for 15 – 18 minutes or until tops are brown and an inserted toothpick comes out clean.
Place the donut pans on cooling rack, let set for 5-10 minutes in the pans.
If using a donut maker, fill the bottom part until it is just full. Close the lid and cook for 7 minutes or until the donuts are brown. Remove the doughnuts and allow them to finish cooling on a cooling rack.
Once the doughnuts are cool, spoon glaze over them.
Vanilla Glaze:
Add sugar, milk, and vanilla to a small bowl. Mix well to make sure the sugar is completely dissolved. Place wax paper or baking sheet beneath cooling rack. Spoon glaze over doughnuts.
Quick notes
Recipe inspired by Gluten Free Chai Doughnuts With Vanilla Glaze by the amazing Alea at Premeditated Leftovers.
I found that with this recipe, I had to allow the doughnuts to fully cool before serving. When they're still warm, they have a mushy, soggy texture but they firm up beautifully once fully cooled. Everyone in the household really enjoyed these doughnuts, even the people who are okay with eating gluten.
Variations
I think next time I make doughnuts, it will be Alea's @ Premeditated Leftover's Gluten Free Chocolate Doughnuts frosted with an Almond Butter Glaze or rolled in Coconut. Yum, I'm making myself hungry
Preparation time: 15 minute(s)
Cooking time: 20 minute(s)
Diet type: Vegetarian
Diet tags: Gluten free
Number of servings (yield): 8 – 10
Culinary tradition: USA (General)
Recipe by Laureen
This recipe is linked to the following events:
My Meatless Mondays hosted byMy Sweet and Savoury
Bake With Bizzy hosted by Bizzy B Bakes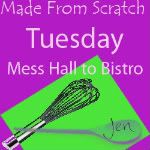 Made From Scratch Tuesday hosted by Jen at Mess Hall To Bistro
TUESDAY TALENT SHOW hosted by Nikki from chef in training
Hearth and Soul Hop hosted by Alea from Premeditated Leftovers
Gluten Free Wednesdays hosted by Linda from Gluten-Free Homemaker
Recipes I Can't Wait To Try hosted by At Home With Haley
These Chicks Cooked Link Party hosted by Katie from This Chick Cooks

Foodie Wednesday Blog Hop hosted by Bibi from Frugal Wannabe Cooks
Copyright © foxinthekitchenblog.com.