Recipe: Mexican Lasagna
Easy Like a Sunday Morning, that's how the recipes in my "Easy" category will be. Nothing rushed or frantic, nothing with a long list of ingredients. Something that is so easy, you don't really need a recipe. Something that almost cooks itself or requires no cooking at all.

This Mexican Lasagna casserole is a very popular dish in the Fox Household. Enjoyed by everyone regardless of whether they are gluten free or not, it is one of the quickest and easiest casserole type of dishes you'll ever put together.
For those of us with Celiac or Gluten Intolerance, this recipe uses corn tortillas, salsa and refried beans. Processed foods that may contain gluten. Remember to read the packaging labels. You don't want to get home and find you can't use some of the ingredients because they may contain gluten.
We like this Mexican Lasagna topped with sour cream, guacamole and fresh salsa. My Quinoa Toasted Corn And Bean Salad is the perfect companion for this dish. If I don't have the time or ingredients to make a salad, I will cook up a big pot of brown and wild rice instead.
This recipe is for a vegetarian version but I have often cooked up a pound of ground meat (turkey or beef are our favourites) and mixed the cooked meat in with the bean mixture before assembling the lasagna. Either with or without meat, it's a delicious easy quick fix for a weeknight dinner.
This lasagna is also freezer friendly. Make up a double batch and slip the extra into the freezer for another day.
 
Gluten Free | Sugar Free | Egg Free | Vegetarian | Omnivore (Option)
Ingredients
Always refer to packaging labels for the most up to date allergy information

1 medium onion, chopped
1 tsp virgin coconut oil, or fat of choice
1 can (14 oz) corn, drained
1 tsp ground cumin
1/2 tsp sea salt
2/3 Cup Gluten Free salsa
1 can (14 oz) Gluten Free refried beans
12 6-inch Gluten Free corn tortillas
8 to 10 oz shredded cheese

Garnish (optional)

tomato, very thinly sliced
fresh cilantro, chopped
Instructions
In a large saucepan over medium heat, sauté onion until lightly browned, about 5-7 minutes.
Add corn, cook until heated through, about 5 minutes. Add cumin and salt, cook stirring frequently until fragrant, about 5 minutes. Remove from heat.
Preheat oven to 375°F. Lightly coat 9×13 casserole dish with gluten free cooking spray, or fat of choice.
Cut 4 tortillas to cover bottom of dish.
In medium bowl, combine onion corn mixture, salsa and refried beans. Spread bean mixture over tortillas and top with half of the cheese.
Top with another layer of tortillas and bean mixture. Top with last layer of tortillas and remaining cheese.
Cover with aluminum foil. Tent foil slightly so it doesn't touch the cheese.
Bake for 20-25 minutes, until cheese has melted. Remove foil, arrange tomato slices (if using) in a single layer on top. Return lasagna to oven and continue baking another 10-15 minutes until top is golden brown. Sprinkle with cilantro, continue baking another 5 minutes.
Remove from oven, allow to sit in pan for 5 minutes before cutting into squares and serving.
Serve topped with sour cream, guacamole and fresh salsa. The Quinoa Toasted Corn And Bean Salad is a perfect accompaniment for this dish.
Notes
For an Omnivore version, cook up a pound of ground meat (turkey or beef) and mix in with the bean mixture before assembling the lasagna.
http://www.foxinthekitchenblog.com/gluten-free/gf-refined-sugar-free/2013/04/recipe-mexican-lasagna/
Copyright © foxinthekitchenblog.com
Follow Laureen Fox's board Fox in the Kitchen Gluten Free Recipes on Pinterest.


To see a text listing of Laureen's gluten free recipes, click here
For dairy, egg, nut and gluten free flour substitutions, click here
[green_box]
Why take Folic Acid?
Scientific research has shown that if women take 0.4 mg of Folic Acid 3-4 months prior to and during pregnancy, the risk of neural tube defects such as spina bifida is reduced by up to 75%. Please consult your physician to determine what is the right amount of Folic Acid for you.
[/green_box]
This recipe a favourite at…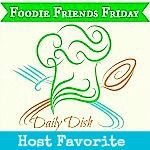 This recipe featured at
And featured at
This post is linked to the following events:
Make Your Own! Mondays hosted by Lea at Nourishing Treasures
Gluten Free Recipe Round Up hosted by Jo-Lynn Shane at Musings Of A Housewife
Melt In Your Mouth Monday hosted by Jane at Make Ahead Meals For Busy Moms
Slightly Indulgent Tuesdays hosted by Amy at  Simply Sugar and Gluten Free
Hearth and Soul Hop hosted by April at The 21st Century Housewife
Gluten Free Wednesdays hosted by Linda at Gluten-Free Homemaker
Allergy Free Wednesdays hosted by Tessa The Domestic Diva
Waste Not Want Not Wednesday hosted by Danielle at Poor And Gluten Free
Wheat Free Wednesday hosted by Anne Marie Cain
Full Plate Thursday hosted by Miz Helen's Country Cottage
Pennywise Platter Thursday hosted by Kimi at The Nourishing Gourmet
Gluten Free Fridays hosted by Cindy at Vegetarian Mamma
Foodie Friends Friday hosted by Lois at Walking on Sunshine
Tuesdays With a Twist hosted by Back To The Basics
[yellow_box]
If you enjoyed this post, please consider sharing it with others using the Pin It button at the top of the page, or any of the Social Media buttons below. Thanks, Laureen
[/yellow_box]
Disclaimer: this post includes some affiliate links. If you order by clicking the links, the cost to you will be the same, but I may receive a small stipend for referring you. It's my way of supporting this blogging habit of mine. Thank you for your support!
Copyright © foxinthekitchenblog.com
The following two tabs change content below.
Laureen is an enthusiastic amateur cook and Canadian Food Blogger from Vancouver BC. She loves spending her days creating good wholesome food in the Fox Kitchen. Evenings will find her blogging about the best that living without gluten has to offer.
Latest posts by Laureen Fox (see all)
Gluten Free
Quick & Easy
Recipes
Refined Sugar Free
Vegetarian