Recipe: Cocoa-Mocha Cupcakes With Marshmallow Frosting
Update: March 15, 2013
This Fox in the Kitchen Recipe for Cocoa-Mocha Cupcakes With Marshmallow Frosting took First Prize in Cloud 9's Gluten-Free Bake Off Contest
Hugs my friends and cheers to delicious gluten free Cupcakes
Thanks, Laureen

It's February and I'm in the mood for baking up a sweet little indulgence!
One of the treasures I took away from the Gluten Free Expo in Vancouver was a bag of Cloud 9 Gluten Free Baking Mix. I've tried a couple of different all-purpose gluten free flour mixes but have always gone back to mixing my gluten free flours recipe by recipe.

Ever since they opened in New Westminster BC last year, I have heard many good things about Cloud 9 Specialty Bakery. I was looking forward to seeing them at the Expo. I discovered they were selling a new Gluten Free All-Purpose Baking Mix. Intrigued, I decided to buy a bag. After getting home with my treasures from the Expo, I found out Cloud 9 was running a Gluten Free Baking Contest. I decided to create and enter a special recipe using their baking mix.
At first, I was thinking Waffles With a warm Praline Pecan Sauce, or something savoury like Cheese Buns, or Cheese Sticks, maybe some Crackers? None of those seemed right for me to enter in the contest. I turned to Pinterest for some inspiration and that's where I saw a picture of Rachael Ray's Hot Cocoa Cookies and that got my creative gluten free juices spinning.
What if I were to take the look of Hot Cocoa with a marshmallow on top and turn it into cupcakes? Not just Hot Cocoa Cupcakes, I wanted to add the flavour of coffee and thought I would call them Hot Cocoa-Mocha Cupcakes or how about Cocoa-Mo? Well, that line of thinking got me singing that song Kokomo by The Beach Boys. You know the song don't you? It's the one they did for the movie Cocktail, starring Tom Cruise…
♫ ♫ ♫
Aruba, Jamaica, ooh I wanna take you to
Bermuda, Bahama, come on pretty mama
Key Largo Montego,
baby why don't we go
Ooh I wanna take you down to Kokomo,
we'll get there fast
and then we'll take it slow
That's where we wanna go,
way down in Kokomo
♫ ♫ ♫
Well, that was a mistake! Now I've got that song stuck in my head.
For my trial run, I topped the cupcakes with a small square of chocolate bar and a half of a marshmallow just like Rachel Ray did on her cookies. The cupcakes tasted really good but the partially melted marshmallow was kind of awkward to manage. It was a bit too gooey and gummy, so I decided to switch it up. Still wanting to stick with a Hot Cocoa theme, I decided to try a Marshmallow Frosting on top of my cupcakes.
After a few more trial runs (my family enjoyed doing duty as my tasting panel), I came up with a recipe for cupcakes that are as yummy as they are visually appealing. Gluten free chocolate and coffee flavoured cupcakes topped with a marshmallow frosting and a little sprinkle of shaved chocolate to give them the look of one of those wonderful beverages you get from a fancy coffee shop. Perfect! With a little scoop of Vanilla Ice Cream…out of this world!!
If you're worried about the cupcakes being icky sweet, they're really not, the sweetness is all in the frosting. If you're making the cupcakes for children, I suggest you use milk (or dairy substitute) instead of coffee and maybe add a bit more sugar. Start with a couple of tablespoons. They would also be great with some mini-chocolate chips added to the batter before baking.
Of course, if you prefer, you can top the cupcakes with chocolate and marshmallows. Just follow the topping instructions for Rachael Ray's Hot Cocoa Cookies. You can also opt out of the marshmallows all together and go with your favourite frosting instead. A pink buttercream for Valentines Day would be lovely.
Now about the Cloud 9 Gluten Free Baking Mix. I tried about six different variations of these cupcakes before settling on the recipe below and I loved the fact that when it came time to add the flour, I wasn't having to drag out a dozen different jars of flour from my pantry. I just dipped into my bag of Cloud 9 Baking Mix and pulled out a scoop of premixed gluten free flour.
The Cloud 9 Gluten Free Baking Mix gave me good consistent results every time. The variations I made as I was developing the recipe, were in the amounts of liquid and sweeteners, as well as in the baking temperatures and times I used but I never had to adjust or add to the Cloud 9 Gluten Free Baking Mix.
If you want to try the Cloud 9 Gluten Free Baking Mix, you can pick it up direct from the Bakery at 1025 Royal Avenue, New Westminster, BC. Or check the Find Us page on their website to see if it's available at a retailer near you. If it's not, they will ship… email: order@cloud9specialtybakery.com or call them 604-249-5010 to place an order.
If you would like to enter Cloud 9's Gluten-Free Bake Off Contest, there is still time but hurry, the contest closes on February 24th.
Watch for an update about my contest entry. If my recipe makes the top ten, I will be soliciting your votes on Facebook to help my Cocoa-Mocha Cupcakes win the Top Prize
I enjoy working with the Cloud 9 Gluten Free Baking Mix and definitely plan to keep a bag of it on hand in my pantry. Next up? I'm still thinking about making those Waffles With a warm Praline Pecan Sauce…YUM!
Follow Laureen Fox's board Fox in the Kitchen Gluten Free Recipes on Pinterest.


To see a text listing of Laureen's gluten free recipes, click here
For dairy, egg, nut and gluten free flour substitutions, click here
[green_box]
Why take Folic Acid?
Scientific research has shown that if women take 0.4 mg of Folic Acid 3-4 months prior to and during pregnancy, the risk of neural tube defects such as spina bifida is reduced by up to 75%. Please consult your physician to determine what is the right amount of Folic Acid for you.
[/green_box]
This recipe a host favourite at…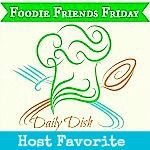 This recipe featured at…
This recipe a Reader's Favourite at…
This post is linked to the following events:
One Creative Weekend hosted by Heidi at One Creative Mommy
My Meatless Mondays hosted by Chaya at My Sweet and Savoury
Melt In Your Mouth Monday hosted by Jane at Make Ahead Meals For Busy Moms
Gluten Free Recipe Round Up hosted by Jo-Lynn Shane at Musings Of A Housewife
Made From Scratch Monday hosted by Mary at Living With Food Allergies And Celiac Disease
Slightly Indulgent Tuesdays hosted by Amy at  Simply Sugar and Gluten Free
Hearth and Soul Hop hosted by April at The 21st Century Housewife
Gluten Free Wednesdays hosted by Linda at Gluten-Free Homemaker
Wheat Free Wednesday hosted by Anne Marie Cain
Allergy Free Wednesdays hosted by Tessa The Domestic Diva
Recipe Box hosted by Chaya at Bizzy Bakes
Full Plate Thursday hosted by Miz Helen's Country Cottage
Gluten Free Fridays hosted by Cindy at Vegetarian Mamma
Foodie Fridayhosted by Diane at Simple Living and Eating
Foodie Friends Fridays hosted by Lois at Walking On Sunshine
Gallery of Favorites hosted by Alea from Premeditated Leftovers
[yellow_box]
If you enjoyed this post, please consider sharing it with others using the Pin It button at the top of the page, or any of the Social Media buttons below. Thanks, Laureen
[/yellow_box]
NOTE: Some of the links on this post are affiliate links, so if you make a purchase by clicking the links, you'll be supporting Fox in the Kitchen. Thanks!
Copyright © foxinthekitchenblog.com
Gluten Free
Recipes
Refined Sugar Free
Sweets
Vegetarian