Recipe: Homemade Ginger Ale :: MMM (Must Make Monday)


I have been a collector of recipes for as long as I can remember but I never manage to find enough time to try all the recipes I collect and that was the reason my MMM (Must-Make-Monday) series was born. The idea is to force myself to choose at least one recipe from my Must-Make-List each week. I will post the results on my blog. Solid idea, or so I thought, but with my recipe collection growing faster than the speed of light, I could use a month of Mondays and still not get to half of the recipes in my collection(s). That's the other thing, since I started this blog, my collection has become plural. It started with the Must-Make-Page on my site but I also have a Must-Make Board on Pinterest.

My MMM (Must-Make-Monday) series, is good in that it forces me to follow through and use recipes from my collection(s). After using a recipe, I check it off and add it to Made-This (TAB). You can view archive postings from my MMM (Must-Make-Monday) series, by clicking here.
To start things off this week, here are a few recipes, that I've come across recently. Categorised but listed in no particular order, these are recipes that I would love to try but haven't gotten around to yet. They are to become the newest additions to my Must-Make-List.
Important *** I have not tagged these recipe links as Gluten, Grain, Sugar, Dairy, Egg or Nut Free, nor have I labelled them as Vegan or Vegetarian. Please review and confirm the recipe meets your dietary requirements before you begin.
Sweet:
Frozen:
Banana Cashew Ice Cream by Sweet Healthy Living. A homemade ice cream that doesn't require an ice cream maker and it doesn't freeze solid, so it should be easy to scoop.
Breakfast:
Salad:
Savoury:
Curry or Garlic Herb Cauliflower Wraps by Empowered Sustenance. I love the look of these wraps. Makes me want to run into the kitchen to try this recipe now!
20 BBQ Side Dishes – Unique Ideas For Grilling by Half Hour Meals. We've already tried grilled zucchini, carrots, grape tomatoes, broccoli, onions, corn on the cob, peas in the pod and pineapple. There are some great ideas for grilling other veggies and fruit as well.
Flaky Buttery Biscuits Gluten & Grain Free by Real Sustenance. These sure look like they would make great dinner buns.
Miscellaneous:
Make Your Own Vanilla Extract by Nourishing Treasures. I have wanted to make Vanilla Extract for a long time. Now I have an idea how to go about doing it. Loved reading all the comments on this post. Shared experiences on the best before date, nada, what alcohol base to use, rum and vodka seem popular, whether to split and scrape vanilla beans, or not and how to keep a perpetual bottle of vanilla extract going.
Food Photography Mistakes by Learn Food Photography. My passion is food but to share my passion, it must look presentable. I'm going to learn to love photography.
Gluten Free Ratio Rally – July 2012 hosted by The Crispy Cook. The theme for July was crackers and bread sticks.
Weekly Gluten-Free Roundup by Maura at Celiac Kitchen Witch. Interested in more Gluten Free Recipes and Reviews?  I love browsing through the weekly roundup that Maura compiles. You should sign up to receive it.
To see a text listing of my gluten free recipes, click here

I'm not confused. I'm just well mixed. ~Robert Frost
There hasn't been much cooking in the Fox Kitchen lately. It's been pretty hot and I'm still spending a lot of time on my blog makeover. I'm making my way through my posted recipes to make sure they have been categorised properly, have all the ingredients listed (I lost a few of those with the switch over to a new theme). Checking the 400 plus pictures in my Media Library, resizing some, adding descriptions, making sure they're attached to right blogpost and deleting the unattached pictures. It's really just general blog housekeeping that I've put off for a while.
Still to do? The About Me page needs a complete overhaul. It's amazing how much I've changed in a year. I'm still mulling over a new logo and new header design, which has me learning how to use Photoshop. I'm finding it is a challenge.
I've also been adding abbreviations to the links on my Recipe Index page. I'm hoping the abbreviations will help you decide whether a recipe is a good fit for your dietary needs before you click-through on it.
Abbreviations:
GF = Gluten Free, not used because these recipes are all gluten free
DF = Dairy Free :: Click to show just the Dairy Free Recipes
EF = Egg Free :: Click to show just the Egg Free Recipes
GrF = Grain Free :: Click to show just the Grain Free Recipes
RSF = Refined Sugar Free :: Click to show just the Refined Sugar Free Recipes
Vt = Vegetarian :: Click to show just the Vegetarian Recipes
V = Vegan :: Click to show just the Vegan Recipes
The few things I've done in the kitchen are repeats of recipes I've used in the past. Let's see, I…
Yikes, that's a pretty long list! I must have spent more time in the kitchen than I realised.
On to today's recipe. I have planned for the longest time, to share this recipe for Homemade Ginger Ale with you. I first tried this Ginger Ale recipe by Kitchen Konfidence back in January…notice the snow in one of my pictures?
I credit Homemade Ginger Ale with getting me off unhealthy soda pop, or soft drinks. I had a one to two cans a day habit for years but was never really able to break the habit until I started making ginger this ginger syrup.
Here are a couple of links that show you why you should be concerned about soft drink consumption…Link to How Soft Drinks Impact Your Health and more recently, from Healthy Kitchen Guide, Researchers in England have discovered that regularly drinking soft drinks changes the way muscles use food as fuel. Muscles normally burn fat.  However regular soft drink consumption makes muscles prefer to burn sugars over fats.
I made this ginger syrup, loved it and have not gone back to my old habit of drinking pop from a can.
The original recipe used a Simple Syrup which is 1:1, one part sugar to one part water. I decided to make mine with honey as it's my sweetener of choice these days but heavens, I didn't want to use a full cup of honey for every cup of water!
I played with the recipe until I came up with a formula that works for me. I use about three parts water to one part honey. Not bad, especially when you only use only one to two ounces of the syrup in a glass of sparkling or still water.
I had originally intended to try several different recipes for Ginger Ale but I stopped at the first recipe because I liked it so much. None of the other recipes included whole spices and I love the spices. They make my kitchen smell wonderful! All sweet like spicy Ginger.
You've probably heard that Ginger is great for nausea but did you know that Ginger is an anti-clotting agent? It has a wholesome effect on the circulatory system as it makes the platelets less sticky and is of great benefit for circulatory disorders.
You can buy a whole bag of ginger root, prep it all by peeling and slicing it into thick slices. Weigh out the ginger destined for Ginger Ale, into 4 oz lots and freeze separately in freezer safe containers until ready to use.
The most economical way to buy Whole Cardamom and Whole Allspice is in bulk packages from an international grocer. I live in an area with a large South Asian population, which is great because I don't have to travel far to find specialty products.
If you follow a sugar-free diet, Amy at Simply Sugar and Gluten Free does not add any sugar to her base "syrup". She says, "Try this healthy, simple-to-make Homemade Ginger Ale recipe. It's naturally gluten-free and you can sweeten it however you choose."
Here are is another link to a Ginger Ale recipe…
Healthy Homemade Ginger Ale by Life From Scratch
Recipe: Homemade Ginger Ale
View Print Friendly Recipe Here
Summary: Making your own Ginger Ale syrup is easy, better tasting and healthier than any commercially produced Ginger Ale.
Gluten Free | Dairy Free | Egg Fee | Grain Free | Refined Sugar Free | Vegan | Vegetarian
Based on Ginger Ale by Kitchen Konfidence
Ingredients
2 1/2 Cups water
4 ounces, or about 1 Cup fresh ginger, peeled and sliced
2 tsp whole green cardamom pods
1 tsp whole allspice
1 tsp whole black peppercorns
3/4 Cup honey
Instructions
Add all ingredients to a medium saucepan.
Heat on medium, stirring often until the mixture comes to a boil.
Reduce heat and simmer for 15 minutes.
Remove from heat and set aside for 1 hour.
Strain the liquid, discard the solids (this part breaks my heart but I haven't come up with a good use for the waste)***see update below***.
To serve, add about 1 to 2 ounces (depending on taste) of chilled Ginger Ale syrup to a glass. Add ice and fill glass with sparkling water, or still water if preferred.
Keep the Ginger Ale syrup chilled for up to a month.

***Update September 1, 2012***
Instead of discarding the solids, separate the cooked ginger from the spices, freeze single layers of ginger in a freezer safe bag or container. Break into pieces to use in baking, frying or smoothies. Green, pink, purple smoothies, it doesn't seem to matter much to me, I find the ginger adds a nice zing. Discard the spices, unless you can come up with a creative way to use them.
I'm loving the ginger in my smoothies! 
Recipe by Laureen
Preparation time: 15 minute(s)
Cooking time: 15 minute(s)
Diet type: Vegan | Vegetarian
Diet tags: Gluten Free | Dairy Free | Egg Fee | Refined Sugar Free
Number of servings (yield): 12
Follow Laureen Fox's board Real Food Recipes (Gluten Free) on Pinterest.


To see a text listing of Laureen's gluten free recipes, click here
For dairy, egg, nut and gluten free flour substitutions, click here
[green_box]
Why take Folic Acid?
Scientific research has shown that if women take 0.4 mg of Folic Acid 3-4 months prior to and during pregnancy, the risk of neural tube defects such as spina bifida is reduced by up to 75%. Please consult your physician to determine what is the right amount of Folic Acid for you.
[/green_box]
This recipe featured at
This recipe is a Reader's Favourite at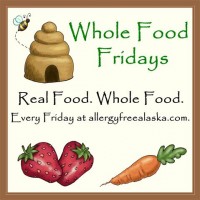 This post is linked to the following events:
My Meatless Mondays hosted by Chaya at My Sweet and Savoury
Melt In Your Mouth Monday hosted by Jane at Make Ahead Meals For Busy Moms
Make Your Own! Mondays hosted by Lea at Nourishing Treasures
Fat Tuesday hosted by Jill at Real Food Forager
Slightly Indulgent Tuesdays hosted by Amy at Simply Sugar and Gluten Free
Gluten Free Wednesdays hosted by Linda at Gluten-Free Homemaker
Allergy Free Wednesdays hosted by Tessa at Tessa Domestic Diva
Real Food Wednesday hosted by Kelly the Kitchen Kop
Recipe Box hosted by Chaya at Bizzy Bakes
This Is Real Thursday hosted by France at Beyond The Peel
Pennywise Platter Thursday hosted by Kimi at The Nourishing Gourmet
Whole Food Fridays hosted by Megan at Allergy Free Alaska
Wellness Weekends hosted by Ricki from Diet, Desserts and Dogs
Gallery of Favorites hosted by Alea from Premeditated Leftovers
Foodie Fridayhosted by Diane at Simple Living with Diane Balch
Potluck Party Olympics International Recipes hosted by Ella at Lifeologia
Made From Scratch Monday hosted by Mary at Living With Food Allergies And Celiac
Tuesday Talent Show hosted by Nikki at chef in training
[yellow_box]
If you enjoyed this post, please consider sharing it with others using the Pin It button at the top of the page, or any of the Social Media buttons below. Thanks, Laureen
[/yellow_box]
NOTE: Some of the links on this post are affiliate links, so if you make a purchase by clicking the links, you'll be supporting Fox in the Kitchen. Thanks!
Copyright © foxinthekitchenblog.com
The following two tabs change content below.
Laureen is an enthusiastic amateur cook and Canadian Food Blogger from Vancouver BC. She loves spending her days creating good wholesome food in the Fox Kitchen. Evenings will find her blogging about the best that living without gluten has to offer.
Latest posts by Laureen Fox (see all)
Dairy Free
Egg Free
GF Naturally
Gluten Free
Grain-Free
Recipes
Refined Sugar Free
Vegan
Vegetarian