Grapefruit, Beet, and Feta Cheese Salad – Easy Like a Sunday Morning
Easy Like a Sunday Morning, that's how the recipes in my "Easy" category will be. Nothing rushed or frantic, nothing with a long list of ingredients. Something that is so easy, you don't really need a recipe. Something that almost cooks itself or requires no cooking at all.

It wouldn't feel like Sunday if I didn't post one of my "Easy" recipes. I was originally planning to post a breakfast recipe today but, well, um, I had a little trouble getting out of bed. I was on a roll last night and ended up staying up late to bake some delicious gluten free bread from a recipe that I can hardly wait to share with you and for the first time ever…I made doughnuts.
Recipe: Grapefruit, Beet, and Feta Cheese Salad
View Print Friendly Recipe Here
Summary: Beautiful colours and a surprising mix of flavours. A salad that is better presented on individual serving plates than tossed together in a bowl.
Gluten-Free | Egg-Free | Sugar-Free | Vegetarian | Dairy-Free-Option | Vegan-Option
Ingredients
Salad
2 Cups baby greens
1 grapefruit, sections
1 oz feta cheese, crumbled
2 peeled roasted beets or 1 can whole baby beets, (about 1 cup)
1/4 cup hazelnuts, roasted and halved, or 12 whole candied pecans (optional)
Dressing
1 1/2 Tbsp extra virgin olive oil
1/2 Tbsp balsamic vinegar
1/2 Tbsp apple cider vinegar
coarse sea salt to taste
coarsely ground pepper to taste
Instructions
Peel and cut away grapefruit pith with a serrated knife. Cut sections away from membranes. Set aside.
Cut beets into bite size wedges. Set aside.
Divide baby greens between 2 salad plates and arrange grapefruit sections and feta cheese (if using) decoratively on top. Arrange beets and nuts (if using) around the edges of the plates.
In a small bowl toss or shake together the oil and vinegar.
Drizzle salads with oil and vinegar mixture, season with salt and pepper.
Quick notes
Based on a recipe from epi curious.com. I replaced the blue cheese in the original salad with GF feta cheese and added some nuts.
Variations
Grapefruit, Beet, and Feta Cheese Salad with added Chicken: Add slices of grilled chicken breast to make a supper salad.
Preparation time:C 15 minute(s)
Diet type: Vegetarian | Vegan-Option
Diet tags: Gluten-Free | Egg-Free | Refined Sugar-Free | Dairy-Free-Option
Number of servings (yield): 2
Copyright © foxinthekitchenblog.com.
Recipe by Laureen.
This recipe is linked to the following events:

Wellness Weekends hosted by Ricki from Diet, Desserts and Dogs
My Meatless Mondays hosted byMy Sweet and Savoury
Slightly Indulgent Tuesdays hosted by Amy at Simply Sugar and Gluten Free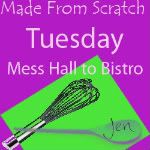 Made From Scratch Tuesday hosted by Jen at Mess Hall To Bistro
TUESDAY TALENT SHOW hosted by Nikki from chef in training
Hearth and Soul Hop hosted by Alea from Premeditated Leftovers
Gluten Free Wednesdays hosted by Linda from Gluten-Free Homemaker
Recipes I Can't Wait To Try hosted by At Home With Haley
These Chicks Cooked Link Party hosted by Katie from This Chick Cooks

Foodie Wednesday Blog Hop hosted by Bibi from Frugal Wannabe Cooks
The following two tabs change content below.
Laureen is an enthusiastic amateur cook and Canadian Food Blogger from Vancouver BC. She loves spending her days creating good wholesome food in the Fox Kitchen. Evenings will find her blogging about the best that living without gluten has to offer.
Latest posts by Laureen Fox (see all)
Egg Free
Gluten Free
Quick & Easy
Recipes
Refined Sugar Free
Vegan