Fresh Tomato Marinara Sauce
This recipe for Fresh Marinara Sauce has been in my Drafts folder for about a month. With Fall quickly slipping away, and fresh tomato harvests with it, I guess it's about time I shared the recipe with you!

Fall harvest is one of my favourite times of the year. A bounty of fresh fruits and vegetables here on the coast, reminds of my youth in the Okanagan Valley. I grew up in Kelowna BC, a community surrounded by beautiful orchards and vineyards. My parents have since moved to the South Okanagan where my dad who has always been an avid vegetable gardener has managed to fill half of the backyard with his garden beds. It beats cutting the lawn, does it dad?
These heirloom tomatoes that I picked up from my local produce store reminded me of my dad's tomatoes and of the ingenious way he has of dealing with his sometimes overly abundant tomato crops.
Dad picks, cleans and removes the stems from bunches of tomatoes. He then puts them into a large freezer bag and pops them right into the freezer. No blanching, peeling or chopping. Dad has found that it's less work to peel the tomatoes after they've come out of the freezer.
Once the tomatoes are slightly defrosted, the peels just slide right off them. No blanching needed. Genius. Earlier this year, I used some of dad's "freezer tomatoes" to make Marinara Sauce and it was just perfect.
So perfect in fact, mom called me a few days later to ask for the recipe. I've made my own versions of this sauce for years but have never written the recipe down. Just a little of this, plus a little of that, taste, add a little more of this and that. Doesn't everyone have a few recipes made up of a little of this and that? I wasn't even sure if my concoction was "Marinara Sauce" but after looking it up, I found my version is surprisingly close to the Marinara recipes that others have posted, so here you go Mom…finally, my recipe for Fresh Tomato Marinara Sauce or should I call it Dad's Freezer Tomato Sauce?
Recipe: Fresh Tomato Marinara Sauce
View Print Friendly Recipe Here
Summary: A beautiful fresh tomato Marinara sauce. Perfect on Gluten Free pasta with a side of Steamed Brocollini. This recipe makes a large batch (about 5 – 6 cups). The sauce freezes well or you can easily split the recipe into smaller portions.
Gluten-Free | Egg-Free | Refined Sugar-Free | Vegetarian | Dairy-Free-Option | Vegan-Option
Ingredients
3 1/2 lbs farm fresh tomatoes, I used heirloom tomatoes
2 Tbsp grapeseed oil
1 medium onion, finely chopped
4 cloves garlic, chopped
2 Tbsp fresh parsley leaves, chopped
4 Tbsp fresh basil leaves, chopped
2 tsp oregano
2 small cans (6 oz) tomato paste
1/8 cup Apple Cider Vinegar, or white wine
1 tsp coconut sugar, or sweetener of choice
1/4 cup Parmesan cheese, finely grated (optional, omit for Dairy-Free & Vegan)
sea salt and fresh ground pepper, to taste
Instructions
Blanch, peel and coarsely chop the tomatoes.
Process in a food processor until smooth. My 3 1/2 lbs of fresh tomatoes made 5 cups of tomato purée. Set aside.
Add oil and chopped onions to a large saucepan, sauté until onions are tender, about 5 minutes. Add garlic, sauté for about a minute, until fragrant.
With heat on medium, add tomato purée and all remaining ingredients, except Parmesan cheese. Stir until well combined.
Add Parmesan cheese (if using), stir, taste, adjust seasoning as needed.
Reduce heat to low, cover and allow sauce to simmer for at least one hour, stirring often.
Serve warm with a sprinkle of chili peppers and Parmesan cheese over GF pasta of choice or allow sauce to cool, refrigerate, reheat and serve later or, divide into serving sized portions, freeze in freezer safe containers for later use.
Quick notes
If you don't have access to fresh tomatoes and herbs;
Use 2 large (28 oz) cans of chopped tomatoes, in place of 3 1/2 lbs of fresh.
Use 1 tsp dried per every Tbsp of fresh parsley and basil but keep in mind that it's the fresh herbs that really give this sauce its wow factor.
Variations
Marinara with Clams Sauce – add 1 can baby clams, drained and rinsed. Heat and serve over GF pasta of choice.
GF Spaghetti with Marinara and Meatballs – prepare GF Meatballs using your favourite recipe. Cook GF Spaghetti according to package directions, drain and rinse. Serve Spaghetti topped with Meatballs smothered in Marinara sauce and shaved Parmesan cheese.
Preparation time: 20 minute(s)
Cooking time: 1 hour(s) 15 minute(s)
Diet type: Vegetarian | Vegan Option
Diet tags: Gluten-Free | Egg-Free | Refined Sugar-Free | Dairy-Free Option
Number of servings (yield): 6
Culinary tradition: Italian-American
Copyright © foxinthekitchenblog.com.
Recipe by Laureen.
This recipe is linked to the following events:
[one_half last="no"]


Wellness Weekends hosted by Ricki from Diet, Desserts and Dogs
My Meatless Mondays hosted byMy Sweet and Savoury
Slightly Indulgent Tuesdays hosted by Amy at Simply Sugar and Gluten Free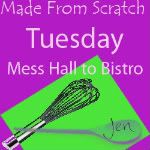 Made From Scratch Tuesday hosted by Jen at Mess Hall To Bistro
TUESDAY TALENT SHOW hosted by Nikki from chef in training
Hearth and Soul Hop hosted by Alea from Premeditated Leftovers
[/one_half]
[one_half last="yes"]
Gluten Free Wednesdays hosted by Linda from Gluten-Free Homemaker
Recipes I Can't Wait To Try hosted by At Home With Haley
These Chicks Cooked Link Party hosted by Katie from This Chick Cooks

Foodie Wednesday Blog Hop hosted by Bibi from Frugal Wannabe Cooks
[/one_half]
The following two tabs change content below.
Laureen is an enthusiastic amateur cook and Canadian Food Blogger from Vancouver BC. She loves spending her days creating good wholesome food in the Fox Kitchen. Evenings will find her blogging about the best that living without gluten has to offer.
Latest posts by Laureen Fox (see all)
Dairy Free
Egg Free
GF Naturally
Gluten Free
Recipes
Refined Sugar Free
Vegan